MTG MAGIC THE GATHERING BETA BLACK LOTUS BGS 10 THE HIGHEST GRADED!
Product Description
MAGIC THE GATHERING BETA BLACK LOTUS BGS 10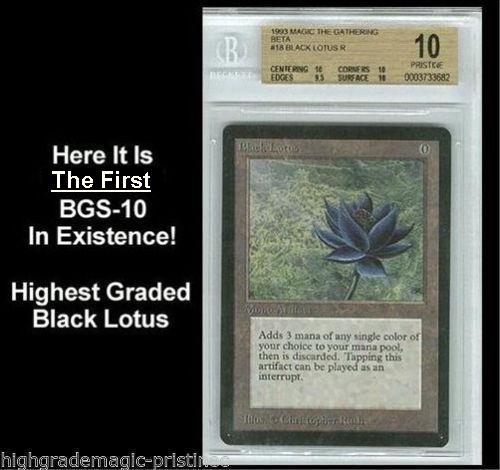 We Sold
The ORIGINAL Black Lotus Painting In Aug 1996
We Sold
Action Comics #1 for $3,207,000 August of 2014
2001 value approx. $150,000
Sold for $1,100,000 March 2011
2001 value approx. $100,000
This Is The Highest Graded Black Lotus In Existence ..
10 Centering /
10 Corners /
10.0 surface /
9.5 Edges

It Cannot Be Understated How Difficult It Is For Any Card, Especially a Magic Card To Achieve The Coveted Grade of BGS 10 .

Why is a BGS 10 much more valuable than a PSA 10 ?

Simply put, BGS has a much stricter grading scale. It's actually a FOUR POINT GRADING SCALE. CLose but no cigar might yield you a PSA 10, but certainly not the coveted BGS 10. Serious collectors know this, and serious Investors know this.
Just take a look at the Joe Montana Rookie card below sale that took place below.
1981 Topps Joe Montana Rookie Card Sold On E-Bay:
The BGS 10 fetched $65,000...
The PSA 10 $3000
An ungraded Card $175
The BGS-10 Sold For 23 x The Amount Of The PSA-10
And 394 x The Value Of An Ungraded Card!

An Ungraded NM/Mint Beta Black Lotus sells For roughly $7500.00. PSA-10 Sells For roughly $25000. + By Comparison The BGS-10 Beta Black Lotus Should Command An Asking Price Of $575,000 (When Compared To The PSA-10), and well over A Million Dollars When Compared To Its Ungraded Counterpart.



Seem Extravagant? Perhaps, But Perhaps Not. Lets Look At Some Of The Top Items For Other Key Collectibles:



Comics: Action Comics #1
In August of 2014 We auctioned off a copy of Action Comics #1 9.0 (1 of only two in existance) on eBay for a Guiness World Record Price of $3,207,000 !!!


Amazing Fantasy #15 ( 1st App of Spider-man ) a 9.4 sold for $240,000-- But the HIGHEST graded 9.6 ( 1 of 3 copies ) sold for a whopping $1,100,000 !!


Incredible Hulk #181( 1st Wolverine ) A 9.8 goes for around $15,000 .............BUT The only 9.9, the copy we held in our hands sold for $150,000 !!!

Baseball Cards: Honus Wagner Rookie (The Highest Existing Copy Sold For Well Over $2 Million Dollars It Is ..................... (No Longer For Sale)


To Further Compare, A CGC 10.0 Graded Copy Of Wolverine #1 (Not A Highly Sought After Comic) Sold For $17,400.00. The Comic Lists At $18 Ungraded, And a 9.6 Copy Sold For Only $120.00. The 10.0 Sold For Nearly Sixty-Seven Times The Amount Of the 9.6 And Nine Hundred & Sixty-Six Times The Value Of The Ungraded Version Of The Same Comic!!



By comparison $100,000 is not only reasonable ....for those who can afford it ... It's a Bargain !! It may also be the only time you'll ever get the chance to own it. We once owned the original Black lotus art- We sold it over a decade ago and to our knowledge, has never surfaces for sale again.



The Market For Graded Magic Singles Is relatively young, and growing. When compared to Coins, Sports Cards, or Comic Books, Magic Singles are at their infancy Magic The Gathering Is Now On Par With Both Comics & Sports Cards As The #1 Collectibles Of Our Era.
Here is a rundown of 'Holy Grail's'
Sports Cards ( T206 Honus Wagner )
Comic Books ( Action Comics #1 )
Gaming Cards ( The Black Lotus )
The Black Lotus Is Unquestionably The King Of ALL Gaming Cards.


This Black Lotus Was Featured With A Headline On the Cover of the Very First Issue of 'Beckett Magic the Gathering' In December of 2005. It also featured
A Half Page Color Article Dedicated Just To This Card!

You get a free issue of the Magazine

Serious inquiries Only. 253-941-1986
Personal Inspections can be arranged after a deposit of $10,000 is recieved
We can ship this card worldwide, however you are responsible for all shipping and insurance.



Product Reviews
Write Review
This product hasn't received any reviews yet. Be the first to review this product!
Find Similar Products by Category